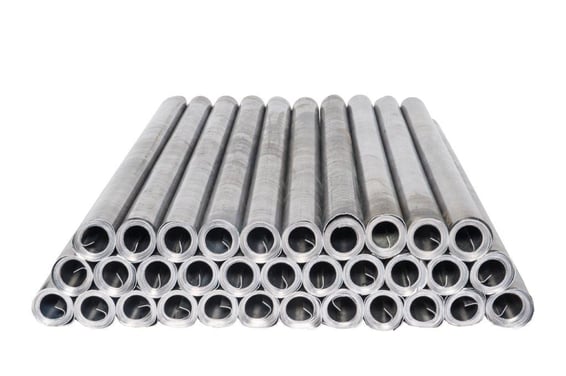 Lead is a heavy metal that is denser than most common material, it is soft and malleable and has a relatively low melting point of 621.4°F (327.5°C). Lead sheet is dense and extremely versatile, and comes in many different forms including bars, ingots, sheets, bricks, and powder.
In this article we will highlight the most common uses of Lead sheet. These include:
Nuclear/X-Ray Industry
Roofing and flashing
Soundproofing
Waterproofing
Radiation Shielding
The properties of lead make it the preferred material of high energy radiation operations. This is due to its density, high atomic number (82), high level of stability, ease of fabrication, high degree of flexibility in application and its availability. Nuclear/X-Ray shielding requires the use of the purest lead available, most often in the form of lead sheet, lead brick and lead plugs. These used for nuclear and radiation therapy applications, radioactive isotope creation, ballast weights and counterbalances.
Roofing/Flashing
Unlike other materials, a sheet of lead can be securely dressed around penetrations and joints. This protects these areas from water penetration. Lead is also able to cope with wide ranging temperature fluctuations, it is resistant to corrosion from the atmosphere, saltwater, most natural chemicals, and UV degradation and its malleable to ensure no cracking. Lead lasts an average of more than three times longer than other roofing and flashing products. Also, a bonus, lead sheet installation is not impacted by damp or cold weather conditions.
Soundproofing
Lead is commonly used as a barrier that absorbs, sound, vibration, and radiation, as a result, lead sheet is commonly used as a sound deadening layer in the walls, floors and ceilings of sound studios. Noise is a challenge for many industries, including the music industry and in many factories with loud machinery. Lead sheet is 10 times more absorbent than glass or concrete and up to 100 times more absorbent than wood.

Radiation Shielding: lead sheet is a form of radiation protection to shielding people or objects from radiation. Radiation shielding is a solution for nuclear and radiology operation, including x-ray, gamma ray, and nuclear applications. Lead brick can also be used for nuclear and radiation therapy. Many doctors, dentists, chiropractors, medical device companies and more use us as a source for their lead sheet and lead bricks. Click the link below if you are in need of a solder quote!
Waterproofing
Like in roofing, lead sheet is a great tool for the prevention of water penetration. In the building industry, waterproofing is mandatory for underground structures High quality lead sheet serves as a moisture barrier against groundwater infiltration.
Mayer Alloys Corporation is a leading distributor of lead and tin products, in business since 1981. From our new 36,000 square foot facility, we offer a full line of lead sheet, lead brick and lead pipe for the nuclear/x-ray industries. We also provide solder wire, bar, ingot and lead-free solder for manufacturing and assembly operations. All material is certified ISO 9001 and meets ASTM B-29 & B-32 specifications. Standard sizes commonly used include 4' x 7' x 1/32", 4' x 7' x 1/16" and 4' x 7 'x 1/8". While most lead sheet orders ship the same day or next day, special orders are also available for lead sheet up to 10' long.
Mayer also offers reclamation services and technical support. Customer service and technical assistance is always available to ensure you are getting the right materials. For technical support or to get a quote, please contact us at 888-513-7971, email sales@mayeralloys.com or click the link below.