Packaging Partner vs. a Packaging Vendor
Are you currently looking for a packaging house to fulfill your military and commercial packaging needs? There are several straightforward factors to keep in mind like their location, pricing, experience and more. However, the most critical component of finding the right company to work with is choosing a packaging partner as opposed to a vendor.
What's the difference?
It comes down to the type of relationship. Vendors work job-to-job, fulfilling orders as requested but they have no deep interest in the long-term success of your business. This type of relationship is transactional where each party is working for themselves.
Partners, on the other hand, are seen as an extension of your company. They work with you to solve complex issues, provide long-term solutions and invest time in your success. Partners aid in correct packaging and shipping logistics, building your profitability and accentuating your government contracts. This type of relationship is relational and is considered a strategic alliance.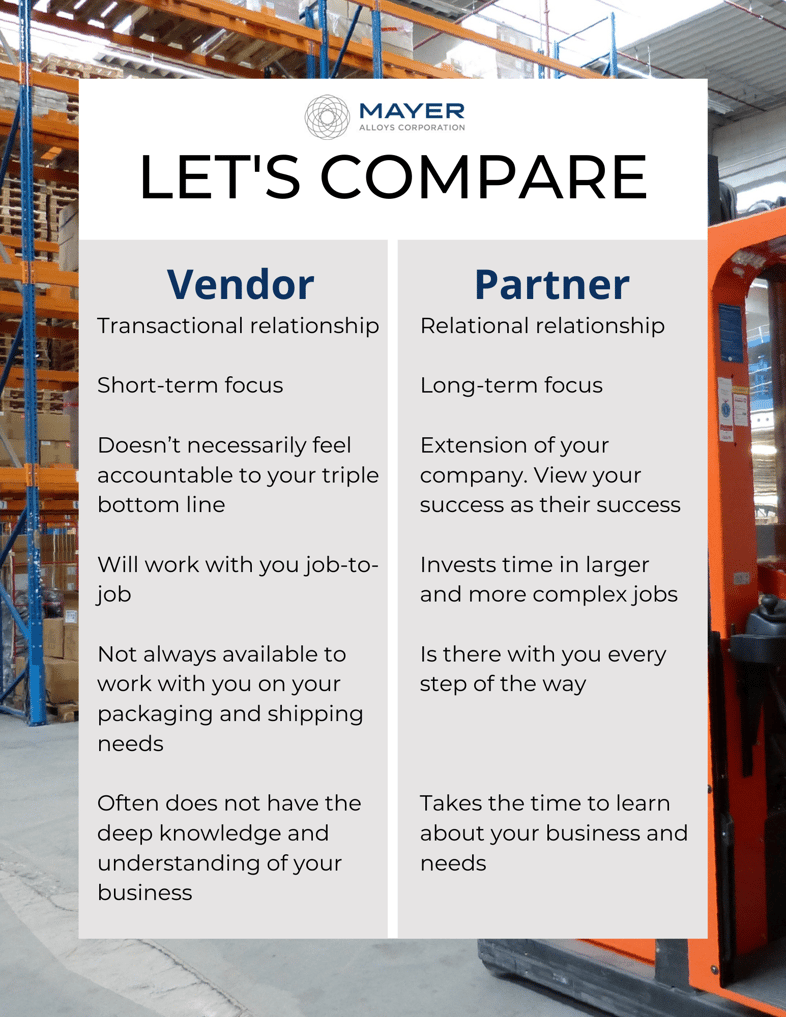 Ultimately, working with a partner comes down to having trust, reliability, and a strategic alliance. It's a beneficial relationship for both parties with a long-term focus to grow business.
So, how do you find a partner and not a vendor?
Here are some tips on how to select the right company.
Interested in partnering with us? Mayer is invested in the success of our customers. Contact us today to see how your long-term success can be fostered by our packaging services.
Photo by Tiger Lily from Pexels
Request a FREE interpretation of packaging codes
Mayer Alloys Corporation brings together the resources to meet your manufacturing, assembly and supply chain needs. We service solder alloys, lead products, contract packaging, warehousing, distribution, e-waste and scrap metal recycling and more. Contact us today to see how we can meet your needs!
Mayer Alloys offers military and commercial packaging services to fulfill your contract requirements. We also specialize in heat sealing, bagging, boxing, shrink wrapping, crating, kitting, palletizing and more. Request a packaging quote today!