Today, we all own cell phones, they are apart of our everyday life. Most american buy a new cell phone every 12 - 18 months and the amount of electronic waste each person builds up more and more every year. Smartphone usage is on a rapid rise, there are 163 million smartphones in the US itself and 1.7 billion smartphones users worldwide and is expected to grow. It is not uncommon for people to have more than one cell phone, due to the need to have a business and a personal cell phone. Cell phones are necessary to conduct business in today's economic landscape, especially in businesses that use . It is not just the individual's responsibility to responsibly recycle their e-waste, it is the companies they work for.
Every year, as the economy seems to getting better and better, the yearly e-waste mountain continues to grow and grow, reaching over 44.7 million metric tonnes in 2016. This e-waste mountain is expected to grow another 17 percent by 2021 to 52.2 million metric tonnes (Leahy 2017). With the rising number of cell phones that a retired each year, only about 14-17% of cell phones are recycled each year. This an insane amount of electronic waste that is growing every year.
Cell phones require a ton of energy to make due to the materials used. Every one million cell phones recycled would yield 750 pounds of silver, 50 pounds of palladium, 700 pounds of gold, and 35,000 pounds of copper. The gold and silver in cell phones dumped by Americans each year would total around $60 million. As well, if 100 million cell phones were recycled, enough energy would be saved to power over 370,000 homes in the U.S. for an entire year.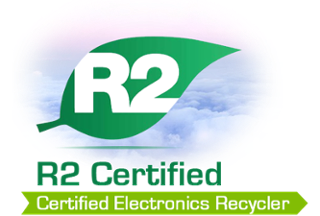 If cell phones are just dumped instead of being recycled this can affect both humans and animals negatively. Smartphones contain toxic materials like chromium, arsenic, beryllium and cadmium. The improper disposal of cell phones has the potential to hurt the earth, humans and animals such as birds, aquatic mammals, aquamarine life. Companies also need to make sure they are using R2 certified recycling centers because they make sure that your e-waste is being recycled responsibly for the environment and your data security.

Mayer Metals Corporation is based in the Metro Detroit area and provides business to business electronic waste recycling. We provide our customers with:
Data Security Solutions
Hard Drive Shredding
Environmentally Responsible Recycling via an R2 Certified Facility
Competitive Prices
Mayer Alloys Corporation is an R2 compliant provider in partnership with OmniSource Electronic Recycling, an R2 Certified Recycler. Mayer will provide you with peace of mind that you are disposing of your organization's electronic waste safely and responsibly. All electronic waste is recycled in an R2 Certified facility. All hard drives are destroyed and Certificates of Destruction in compliance with Department of Defense (DoD) security standards are provided. For more information about electronic recycling check out our Ultimate Guide To Corporate Electronic Recycling.