Did you know that if you don't recycle your e-waste you can hurt humans, animals and the environment. There are toxins in your electronic waste that causes damage to the earth, humans and animals. Informal recycling markets in China, India, Pakistan, Vietnam, and the Philippines handle anywhere from 50 percent to 80 percent of the world's e-waste. The export of e-waste by developed countries to developing countries is often done under unsafe circumstances.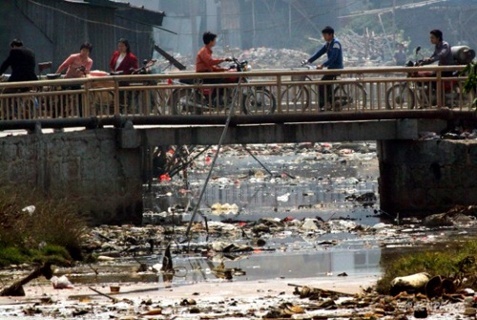 The people of these developing countries can suffer from major health implications due to informal working conditions, poverty and poor sanitation. When electronic waste is dumped in these developing countries the impact is detrimental to the environment of the country and the health of the people. In Guiyu, China, one of the largest electronic waste landfill sites in the world, residents exhibit substantial digestive, neurological, respiratory and bone problems, according to a study done by Anna O.W. Leung.
Some of the toxic materials that are in electronic waste includes:
Antimony: Poisonous
Arsenic: Poisonous
Barium: Gastrointestinal, neurological, and cardiovascular toxin
Beryllium: Carcinogenic, Acute Beryllium Disease
Cadmium: Carcinogenic, organ toxin
Chromium: Organ toxin, carcinogenic
Dioxins: Carcinogenic
Lead: Central and peripheral nervous system toxin
Mercury: Central nervous system and endocrine system toxin
Nickel: Carcinogenic, respiratory toxin
Polychlorinated Biphenyls (PCBs): Blood, skins, and organ toxin
Polyvinyl Chloride (PVC): Organ toxin, endocrine disruptor
(Source: Jaymi Heimbuch; Treehugger)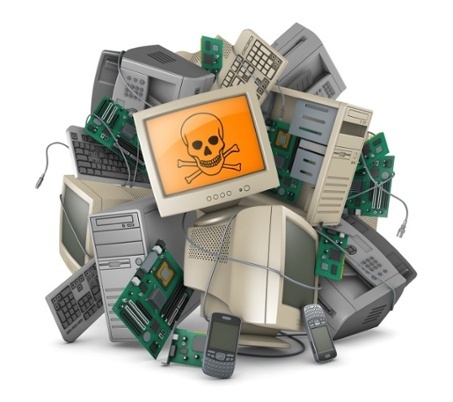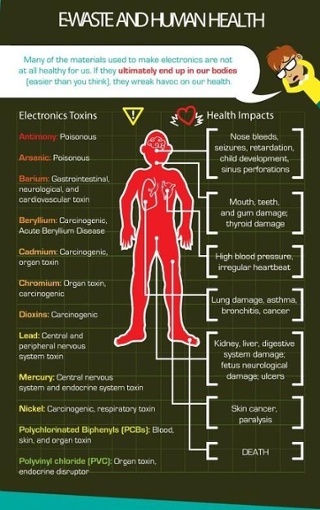 All of these toxin materials cause major health implication. In the head, it can cause nose bleeds, seizures, retardation, child development, and sinus perforations. In the mouth it can cause mouth, teeth and gum damage, as well as thyroid damage. It can cause high blood pressure, irregular heartbeat, lung damage, asthma, bronchitis and cancer. Other implications can include kidney, liver, digestive system damage, fetus neurological damage, ulcers and can even lead to death (Source: Jaymi Heimbuch; Treehugger). These health implication are detrimental, not just to people in faraway countries but to everyone. Animals and the environment are also affected by e-waste. When electronics are incinerated the toxins get released into the atmosphere. Also by the electronic waste sitting there in informal e-waste dumps, water is poisoned, air turns toxic, soil becomes dead, and as a result wildlife, aquatic life, and plant life all suffer.
There is sufficient information about how destructive electronic waste can be to the environment, people and animals. As consumers it is essential to manage e-waste properly, using R2 certified recyclers is the best way to know that your electronic waste is being recycled properly and in an environmentally friendly way. R2 certified recyclers have to meet certain requirements in order to handle electronic waste responsibly.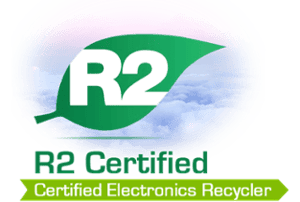 R2 Practices include the proper management of environmental issues, proper selection and management of downstream vendors, use of generally-accepted data destruction practices, safe storage practices, a functioning security program and demonstration of financial responsibility. Mayer Alloys is an R2 Certified Recycler and works in business to business electronic recycling. We make sure that the businesses that work with us can be relieved to know that they are handling their electronic waste responsibly.
If your company has interests in electronic recycling, Mayer Alloys will provide you with the most competitive rates and provide you peace of mind that you are disposing of your organization's electronic waste safely. For a quote to responsibly recycle your company's electronics, please contact us at 844-564-6087, via email at scrap@mayeralloys.com or by clicking on the image below.
For more information on electronic waste recycling check out our Ultimate Guide To Corporate Electronic Recycling:
Mayer Alloys Corporation is an R2 compliant provider in partnership with OmniSource Electronic Recycling, an R2 Certified Recycler. Mayer will provide you with peace of mind that you are disposing of your organization's electronic waste safely and responsibly. All electronic waste is recycled in an R2 Certified facility. All hard drives are destroyed and Certificates of Destruction in compliance with Department of Defense (DoD) security standards are provided. For more information about electronic recycling check out our Ultimate Guide To Corporate Electronic Recycling.