E-waste, also called electronic waste, is the name for electronic products that have come towards the end of their "useful life." This can include computers, monitors, television, stereos, copiers, printers, fax machines, office machinery, cell phones, DVD players, cameras, batteries and many more electronic machinery. E-waste can be a major issue in terms of data security. By not properly disposing of your electronic waste you are putting your organization in a position to have your data taken and being subjected to cyber crime. We have put together some facts about data security and electronic waste, for more information on this topic we have a more detailed blog post over on our sister companies blog. Click Here to check it out!
Businesses, especially those with fewer than 2,500 employees have become popular targets by hackers.
According to the research published by Accenture, on average an organization loses $11.7 million to cyber crime

.

Deleting your data does not mean that it is destroyed.
R2 certified recycling companies securely destroy data, hard drives, floppy disks and other media.
R2 certified recycling companies provide you with full documentation of recycling and destruction.
Mayer Alloys Corporation is based in the Metro Detroit area and provides business to business electronic waste recycling. We provide our customers with: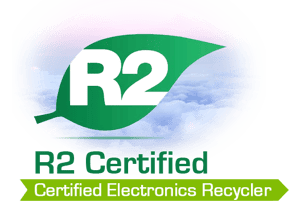 Data Security Solutions
Hard Drive Shredding
Environmentally Responsible Recycling via an R2 Certified Facility
Certificates Destruction for your Company's Records
Competitive Prices
Mayer Alloys Corporation in partnership with OmniSource Electronic Recycling, will provide you with the most competitive rates and provide you with peace of mind that you are disposing of your organization's electronic waste safely and responsibly. All electronic waste is recycled in an R2 Certified facility. All hard drives are destroyed and Certificates of Destruction in compliance with Department of Defense (DoD) security standards are provided.
Download "Why Responsibly Recycle Your Organizations E-Waste?" This will give you a ton of information on why to recycle responsibly and how to recycle responsibly. There are many social, environment, and data security reasons responsibly recycle and this guide will give you all the information you need. Also contact us at (888) 513-7971 or email us at sales@mayeralloys.com if you have any questions on e-waste or if need help with any of you e-waste needs.